How Patient ID Cards Work
With the ISG's patient ID card system, every patient is issued their own individually personalized ID card with their name, photo and contact information printed on the surface of the plastic ID card, along with your health organization's name, logo and information.
The card allows your patients to quickly and accurately check-in to your healthcare systems facilities, instantly pulling up their records, including appointment times, treatment history, insurance carriers, preferred providers and more. This allows your patients to feel like a "VIP" in your system, and get immediately recognized to begin service.
Patient registration, verification and check-in using the personalized patient ID card is very similar to using SmartReg scanning of state driver licenses. Identical information can be printed and/or encoded in the patient ID card, and used for fast check-in for patient visits, appointments, and procedures. A major advantage is that the patient doesn't need to have an state-issued driver license in order to verify their identity, as long as they have a patient ID card in your system issued by you.
The card also acts like a "billboard in their billfold" by reminding them of upcoming appointments and the positive quality of care your healthcare system provides to them. It helps to solidify patient trust of your care by way of the fast record retrieval, improved services, and ownership of their personalized patient ID card.
Click on the button below to contact your local ISG expert to talk with them about pricing and available options.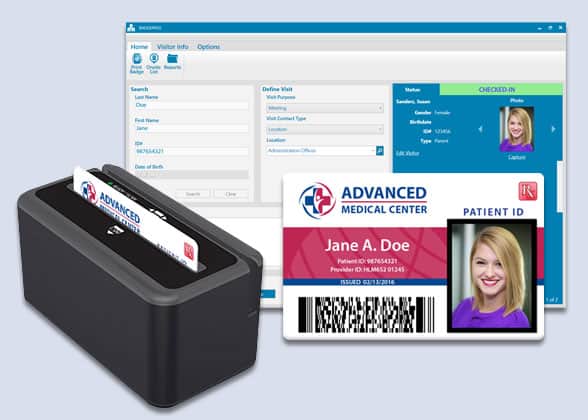 RightPatient Biometric Patient Management