Our Commitment to Excellence
Buying systems and solutions from an ISG dealer means that the products are sold and supported by a network of more than 30 dealers with over 100 office locations serving all of the USA and most of Canada. It also means that those products have been tested and approved by the group to meet their rigorous requirements for overall quality, durability and value.
To be considered for the ISG Seal of Approval, these products must:
Be from an authorized ISG Partner
Pass the scrutiny of the ISG and Board of Directors
Receive the endorsement of nationwide ISG member dealers
Pass all shop and field testing requirements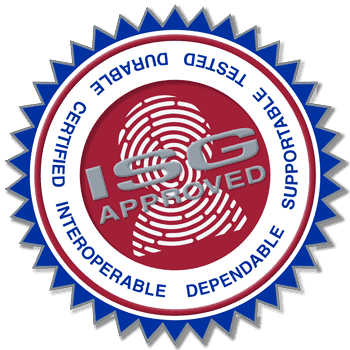 To be Certified with the ISG Seal of Approval, products must be:
They work seamlessly with other ISG products and solutions, including ID software, cameras, card printers, other capture devices, proximity and contactless cards, door access control, logical access control, and one-card solutions.
They are durable products that work consistently over time with proper care and maintenance.
Parts, supplies, training and manuals are all readily available from the manufacturer for these products, and they are easy to install and use.
To learn more about our certified solutions, please contact us today!