UHF RFID Cards, Tags & More
UHF technology uses the radio wave frequency spectrum, allowing reading distances of about 20 feet (7 meters), depending on the size of the tags and the operating power transmitted by the UHF reader.
Our UHF credentials are designed to outperform other solutions  and are frequency-tuned for specific environmental constraints. We also offer dual-frequency tags (UHF+HF) for support in a variety of applications, including near field communication (NFC) with HF interfaces.
Contact us with any questions you might have about these or other UHF RFID solutions from the ISG.
Our UHF Credentials provide multiple options for durable, interoperable radio frequency identification (RFID) cards. Ultra high frequency (UHF) technology (operating in the 860 – 960 MHz frequency range) delivers outstanding performance for long-distance, multiple, reliable readings of credentials, including cards and tags.
Our designs can leverage UHF technology to read through badge holders, handbags, pockets, and backpacks. Our UHF RFID Credentials can keep track of people to increase personal safety and facility security, capture guest/visitor data, and can support 125 KHz low frequency (LF) and/or 13.56 MHz high frequency (HF) interfaces.
Contact us today or click below to ask your local ISG expert about this solution and get a quote for  your facility.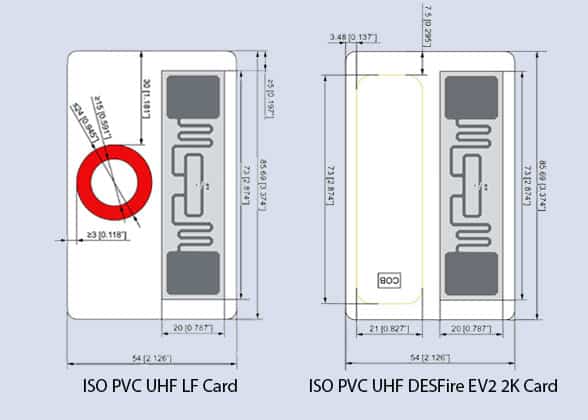 Other UHF RFID Applications
Ultra High Frequency (UHF) is mainly used to
track people & things. The frequency range is 860
MHz to 960 MHz and cards typically have a read
range of 10-20+ feet in most instances. The ISG offers its UHF RFID solutions for applications such as preprinted cards, door hangers, wristbands and other plastic products for access control, time and attendance, event badges, payment cards and more.
Click on the link below to download a product datasheet or click to get pricing information from your local ISG dealer.
Identiv Tag on Metal (TOM) Media Labels