With the Staff Duress System from Cox Prosight, you can activate Smart Alerts to efficiently respond to staff duress and inform necessary team members. Trigger automatic notifications when staff signals for support at the press of a button.
Send alerts on real-time locations to only notify relevant staff and heighten alert severity to send extra help and appropriate responses.
You can also minimize response times by activating tablet and smartphone alerts.
Locate staff and decrease duress response time using real-time Smart Locations, which pinpoints staff locations using real-time visibility to accurately send help.
Help lower response times by sending help to the exact location of the panic button activation and access intuitive virtual mapping via desktop, laptop or smart device.
Contact us to reach you local ISG expert for pricing or more details on this solution.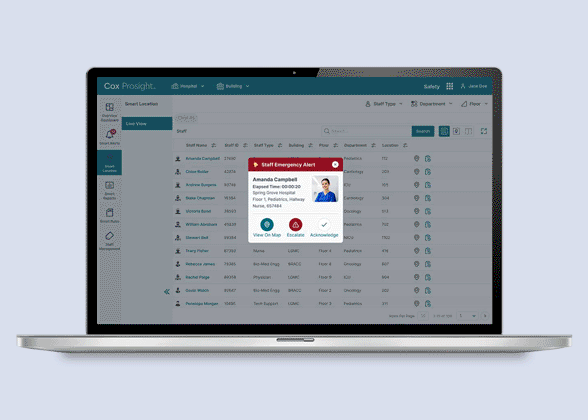 Credentialing & Accountability Management
Medical Equipment Asset Tracking