"Green" Eco-Friendly Cards
Many ID card issuers wonder how they can provide an Earth-friendly card issuance service. There are a variety of so called "green ID" products available that are considered biodegradable, "Earth-friendly" or "eco-friendly". However, most of these services do not offer a card recycling program, or a Rippa™ ribbon shredder option.
ISG provides steps toward developing a comprehensive "green" ID and recyclable ID card issuance plan. These steps include:
Eco-friendly ID card printer and printer supplies
Biodegradable, recycled or recyclable ID card stock
Earth-friendly lanyards and badging accessories
Card recycling program for cards & empty ribbon cores
ISG Eco-Cards & Recycling Program
We also offer our own Earth-friendly Eco-Cards, in both 100% and 85% PVC Free versions. The 100% PVC Free recyclable ID cards are made from a chalk and HDPE (high density polyethelene) combination with a PET overlay, which makes them suitable for retransfer card printers , like ISG Peak printers.
The 85% PVC Free is made up of a lower percentage of chalk and HDPE, with 15% PVC on the surface so they can be used on regular direct-to-card dye-sublimation desktop card printers.
Chat with us to discuss your environmentally friendly cards or accessory needs, download the datasheet, or click on the link below to get pricing from your local ISG dealer. You can also talk with us about our recycle program for used cards and ribbons.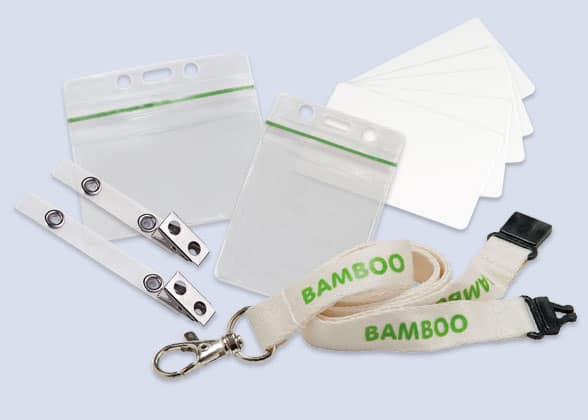 ID Card Printer Ribbons & Laminates